______________________________________________________________________________________________
City of Pasadena Awards JP Weaver Co. | Pasadena, CA | May 2017
Commissioned by Oliver & Associates to restore the sculpted scroll frieze on the venerable Fannie Bohham Rowhouses in Pasadena, JP Weaver Company was given the original scrollwork ornamentation for restoration.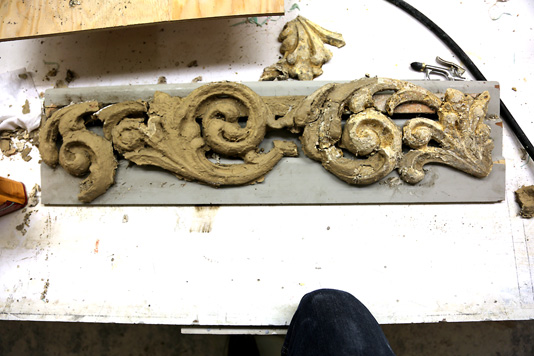 The first step was to strip and remove decades of paint and oxidation from the original sculpture. This yielded fractured and badly damaged remnants and pieces of the original castings.
Rob Tyler reconstructed these elements and restored them to an original model. Moulds were then made to ensure all of the original fine detail was kept intact.
From this JP Weaver made castings for the needed 72 feet of moulding for the scrollwork frieze. As you can see from the before and after shots, the castings recapture the original essence of design, close to nearly a century later.
In recognition of preserving Pasadena's shared architectural heritage, the City of Pasadena will be presenting an award to JP Weaver Company for its expertise in restoration and preservation. Stay tuned as we'll soon post photos from the event!